Tampa Personal Injury Lawyer Re-Launches Minute With Mike Video Series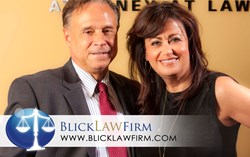 TAMPA, FL (PRWEB) September 12, 2013
Blick Law Firm introduces Minute with Mike, a video campaign designed to encourage legal discussion in the community with attorney, Michael Blickensderfer. The campaign re-launched August 5th, 2013 and has taken YouTube by storm. Within its short inception the YouTube channel has reached over 100,000 Views!
Minute with Mike campaigns objective is to bring awareness to the community of Blick law firms services, answer legal questions online and offer commitment to the local community.
Once a month, audiences can view 10 new videos that are uploaded to the Blick Law Firms YouTube channel where attorney, Michael C. Blickensderfer will answer legal questions over the web on the air! On this free legal forum viewers will have a chance to ask a question and watch Mike answer current legal matters. http://www.youtube.com/user/blicklawfirm
Blick Law Firm wants to give back to the community by offering a site where people can go to get legal questions answered for free without the inconvenience of leaving their office or home, said Dana Blickensderfer, marketing director at Blick Law Firm.
Want to submit a question? Heres how:
Submit important legal questions by emailing info(at)BlickLawFirm(dot)com and see the questions answered by the attorney. Blick will try to answer legal questions based on the firm's practice areas, but cannot guarantee every question will be answered.
Feel free to use Facebook and Twitter to also post legal questions for Mike to review and possibly answer on a Minute with Mike.
For more information please visit http://blicklawfirm.com/ or contact Blick Law Firm marketing liason, Mahayana Sfeir at 888-973-2776 or via Email: Mahayana@BlickLawFirm.com
About Blick Law Firm
Blick Law Firm is a local Tampa Bay legal firm specializing in personal injury, criminal, immigration and real estate law all across the state of Florida. The owner, Michael C. Blickensderfer has 25 years legal experience in Florida, New York and New Jersey. Blick Law Firms practice areas include criminal law, DUI/ Traffic, real estate transactions, loan modifications, short sales, foreclosure defense, bankruptcy, title insurance and real estate litigation. Blick Law Firm also serves clients in personal injury, including auto accidents, motorcycle accidents, slip and falls premises liability, dog bites, marine and aviation accidents and wrongful death.
For further information regarding their legal services please visit their website at http://blicklawfirm.com/
*Disclaimer* The hiring of an attorney is an important decision that should not be based solely upon advertisements. Before deciding, ask the attorney to send free written information about the firms qualifications and experience. Copyright