Kevin Hayslett, of Carlson, Meissner, Hart & Hayslett, P.A., Explains Floridas New Rules on Administrative Suspension of a Drivers License after a DUI Arrest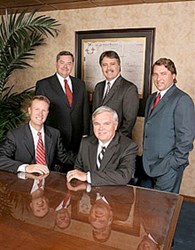 Tampa Bay, Florida (PRWEB) September 17, 2013
Kevin Hayslett, Tampa Bay's Prominent Criminal Law Attorney, Explains Floridas New Rules on Administrative Suspension of a Drivers License after a DUI Arrest
Knowing the new state guidelines is important if you have been charged with DUI
Kevin Hayslett, The Attorney to the Stars, of the Tampa Bay law firm of Carlson Meissner Hart & Hayslett, P.A., discusses new procedures that became effective in Florida on July 1, 2013, regarding the reinstatement of a suspended drivers license after a DUI arrest.
In 2011, more than 55,000 people were arrested for DUI in Florida and more than 33,000 were convicted of DUI, or driving under the influence. A DUI conviction can permanently alter the course of ones life. Because a conviction can stay on a criminal record for 75 years in Florida, it can have a serious impact on employment and school opportunities. DUI convictions can also result in a suspended drivers license and can significantly increase auto insurance costs.
Under Florida Statute, s.316.193, a person is guilty of "driving under the influence" if the person is driving, or is in physical control of a vehicle while under the influence of alcoholic beverages, chemical substances or controlled substances that causes the persons normal faculties to be impaired. A driver with a blood-alcohol level (BAC) of 0.08 is considered to be driving under the influence. DUI convictions are punishable by fine or imprisonment.
Florida drivers arrested for DUI must navigate both a lengthy administrative process before the Department of Motor Vehicles to regain their drivers license, and face a daunting criminal proceeding in court to determine culpability on the DUI charge. These often occur simultaneously.
Effective July 1, 2013, under Florida Statute s.322.2615, the rules for administrative suspension of a drivers license changed. Drivers charged with DUI in Florida now have the following options:
1.