Attorney to the Stars, Kevin Hayslett, of Carlson, Meissner, Hart & Hayslett, P.A. Welcomes a New Law Banning Texting While Driving in the Sunshine State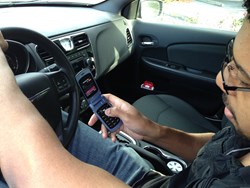 Tampa Bay, Florida (PRWEB) October 04, 2013
Texting behind the wheel has been compared to other notoriously dangerous acts such as driving while intoxicated, tired, or on narcotics. A National Highway Traffic Safety Administration study found that 24% of all crashes involve cell phones. A press announcement from Maria Sachs, the author of the texting bill, suggested that cellular devices were a key reason for a recent spike in traffic deaths in Palm Beach County. Florida lawmakers aim to make the states roadways safer for all motorists with this legislative measure against texting behind the wheel.
When asked about the new law, Tampa Bay criminal attorney, Kevin Hayslett, with the law offices of Carlson, Meissner, Hart & Hayslett, P.A., commented, This law will save so many lives. There is really no reason for drivers to endanger themselves and other commuters by taking their eyes away from the road to write or read text messages.
Effective October 1st, texting while driving will be illegal in Florida. State Senator Maria Sachs led the push for the bill against texting while driving. According to Sachs website, texting while behind the wheel will be considered a secondary offense, which means drivers can be ticketed for texting if they have already been pulled over for another alleged traffic violation. Drivers caught in the act of texting while operating a motor vehicle will be fined thirty dollars for their first offense.
Attorney Kevin Hayslett commented further, Im glad there is finally a law to curb this incredibly dangerous behavior, but honestly, I wouldve liked this law to have some more teeth, and a stiffer fine. We are headed in the right direction, but I believe we can go further.
State Senator Maria Sachs plans to introduce another bill that will make driving while texting a primary offense. Primary offenses merit law enforcement pulling vehicles over and possibly ticketing violators. According to Sachs most recent press announcement, thirty-nine states have made texting while driving a primary offense.
Attorney Hayslett stated he would like to see more public service messages aired to increase awareness of the dangers associated with texting while driving.
When asked about teen driver awareness, Hayslett stated, We have to really emphasize to our teens that whatever the text message is about, it can wait. Nothing communicated in a text is worth a life.
According to Sachs website, texting while driving became the leading cause of driving related deaths in teenagers in 2011. Attorney Hayslett believes lives can be saved by spreading the message that texting while driving is a deadly behavior. He advocates sharing resources and information with all drivers, especially teenagers, who are the newest and most inexperienced motorists on Florida roadways.
About Carlson, Meissner, Hart & Hayslett , P.A.

The law firm of Carlson, Meissner, Hart & Hayslett P.A. was founded in 1971 by attorneys Ed Carlson and Paul Meissner. For more than four decades, they have been committed to protecting the injured and defending the accused. Their attorneys have established a solid reputation of case success throughout Florida, providing strong legal representation, easy accessibility and a high level of dependability. A client-centered approach ensures that clients know what is happening as their case progresses, and understand their options every step of the way. With a focus on personal injury, they help victims of auto accidents, slip and falls and wrongful death accidents. The firm is well-known for their innovative criminal defense and DUI work, defending both local and high-profile clients. Attorney and Partner Kevin Hayslett is widely recognized as The Attorney to the Stars, providing strong legal representation for notable celebrities and dignitaries throughout Florida. The firm also handles social security disability, workers compensation, divorce, family law and immigration cases. They offer free initial consultations and have five convenient Tampa Bay Area locations. Attorneys are available 24/7 for emergencies. Count on the legal team of Carlson, Meissner, Hart & Hayslett, P.A. to be there, fighting for you, protecting your rights. For more information or to schedule a consultation, call 877-728-9653 or visit their website at http://www.CarlsonMeissner.com.