Thirty-two Organizations Cosponsor Ninth International Conference on Climate Change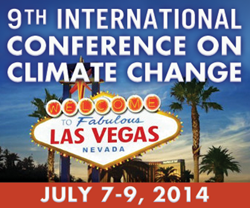 (PRWEB) June 30, 2014
Number of Sponsors Illustrates Range and Depth of Skepticism about Man-Made Global Warming.
Thirty-two organizations, including several well-known think tanks and advocacy organizations, are cosponsoring an event billed as the worlds largest gathering of global warming skeptics in Las Vegas July 79. The Ninth International Conference on Climate Change (#ICCC9) features 60 of the worlds leading scientists and policy experts who are skeptical of man-caused global warming.
The sponsoring groups represent a wide swath of organizations working to advance free markets and sound science, including The Heritage Foundation, Competitive Enterprise Institute, and George C. Marshall Institute.
This is a great show of unity in opposition to the global warming alarmism of President Obama and radical environmental groups, said Joseph Bast, president of The Heartland Institute, the leading organizer and host of the event. Having all these organizations endorse this conference means skepticism about man-made global warming continues to spread and gain respectability.
Global Warming Debate

The debate over the causes and consequences of global warming (or climate change) is one of the great controversies of the modern era. While environmental activists and some politicians claim the debate is over and call for immediate action to reduce man-made greenhouse gas emissions, others say the science points to only a very small human impact too small to warrant concern and the costs of trying to prevent global warming far exceed the benefits.
Ninth International Conference on Climate Change

The Ninth International Conference on Climate Change is expected to attract nearly 1,000 speakers, scientists, and guests willing to question whether man-made global warming is a problem worth addressing. The event has 32 cosponsors and features 60 prominent scientists and economists as keynoters or panelists.
Click here to register for media credentials for the Ninth International Conference on Climate Change at Mandalay Bay in Las Vegas, July 79.
The program features three concurrent tracks of information science, public policy, and communications with five plenary sessions and 21 break-out sessions. Ten individuals will receive awards recognizing their contributions to global warming skepticism. Click here to see the schedule of events, and click here to see the list of award winners.
Below is a list of co-sponsors, in alphabetical order, including a brief description of the organizations and quotes for attribution.

________________________________________
Australian Taxpayers Alliance

The Australian Taxpayers Alliance is a grassroots advocacy and activist organization dedicated to standing up for hardworking Australian taxpayers against special-interest groups. We oppose the high taxes, wasteful spending, and crippling red tape that are hurting Australian families and businesses, and we provide a voice for everyone who opposes the big-government agenda.
The Australian Taxpayers Alliance is once again delighted to cosponsor the ICCC, said Tim Andrews, executive director of the Australian Taxpayers Alliance. With Australia set to repeal our destructive tax on carbon dioxide, we look forward to other countries following suit through learning from the experts at the conference, and rejecting failed policies based on alarmism and not real science.
Ayn Rand Institute

The Ayn Rand Institute offers a variety of educational experiences to promote Ayn Rands philosophy and her principles of reason, rational self-interest, and laissez-faire capitalism. Our perspective on issues of the day are based on the principles of a free society: laissez-faire capitalism, its moral foundations, its life-promoting consequences, and the pro-reason culture required.
Blue

The real battle isnt over the environment. Its about freedom. Blue challenges todays radical Green ideas, contending economic development is not the enemy but the best friend of environmental stewardship; CO2 is life not pollution; and the world needs more people. Blue is a movement to replace Green.
Im so pumped to hear and meet some of the most well-qualified and well-known critics of green alarmism in the world at the ICCC9, said J.D. King, director of Blue, a documentary that kicks off an alternative to the out-of-control Green movement.
Carbon Sense Coalition, Australia

The Carbon Sense Coalition is a voluntary group of people concerned about the extent to which carbon is wrongly vilified in Western societies, particularly in government, the media, and in business circles. We aim to restore balance and reason to the carbon debate, and to explain and defend the key role of carbon in production of most of our energy for heat, light, and transportation, and all of our food.

The Carbon Sense Coalition is proud to endorse the Heartland Climate Conference and happy to be a co-sponsor, said Viv Forbes, chairman of Carbon Sense Coalition, Australia. This is an important conference to illustrate that there is no consensus on the science, and considerable logic and evidence to indicate that carbon dioxide does not control world climate.
Center for Industrial Progress

The Center for Industrial Progress is a for-profit think-tank that offers a positive alternative to the anti-industrial Green movement. CIP pursues its mission through thought-leading content, high-impact messaging, and world-class training for a new generation of industrial advocates.

Center for the Defense of Free Enterprise
The Center for the Defense of Free Enterprise, a non-profit, tax-exempt foundation, was founded on July 4, 1976, the bicentennial of the American Revolution. We are here to continue that Revolution of liberty, free enterprise, and individual initiative. We research and disseminate through speakers, conferences, and publications.
Center for the Study of Carbon Dioxide and Global Change

The Center for the Study of Carbon Dioxide and Global Change provides regular commentary and original research in the world-wide scientific quest to determine the climatic and biological consequences of the ongoing rise in the airs CO2 content, publishing material weekly in its CO2 Science magazine. The center also partners with The Heartland Institute and the Science and Environmental Policy Project (SEPP) to produce the official reports of the Nongovernmental International Panel on Climate Change (NIPCC).
The Colder Side of Global Warming

The Colder Side of Global Warming